Discover more from Marketing Powerups
I research and share how marketers like Amanda Natividad, Kevin Indig, and April Dunford consistently win. You get the roadmap to replicate their success – and save 40+ hours of research.
Over 4,000 subscribers
The community retention playbook
Marketing Powerups #59: Becky Pierson Davidson shares the community retention playbook she used to reduce refund requests at Bossbabe.
Hello friend, and welcome to Marketing Powerups! 👋🏽
Phew! This week, I spoke to my largest audience yet—over 400 marketers and product folks at Hotjar's conference. 🤯
But the highlight for me was meeting in person the marketing friends I've made online, including
,
,
,
, Claire Suellentrop, Tawni Sattler, Tommy Walker, Ryan Baum,
, and more!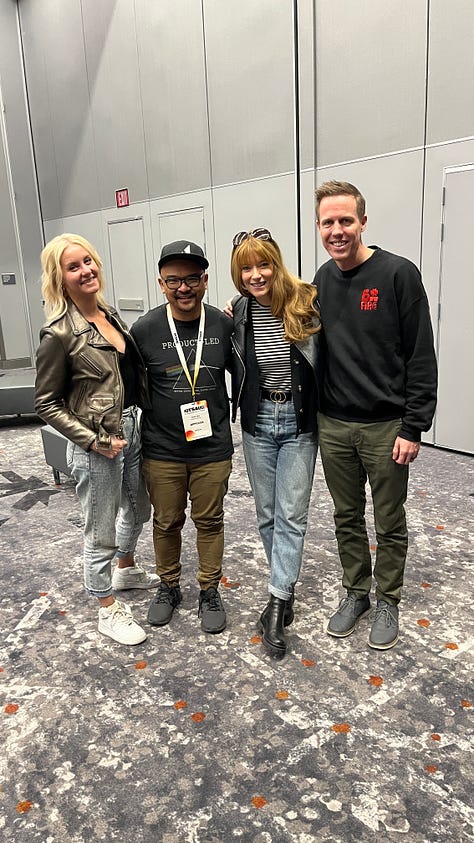 One day, I hope to meet you at an in-person conference, meet-up, or event. And if you're ever in Toronto, Canada, send me a message! I might be available to grab a coffee or bite somewhere.
Let's jump into today's powerups, including:
The 2023 state of content marketing.

A guide to mastering content quality.

Becky Pierson's community retention playbook.
Ready? Let's go! ⭐️
---
🎖 Build a high-efficiency growth engine
B2B demand and sales these days have been sloooooow.
But smart marketers from companies like ProfitWell, Teamwork, and Hubdoc aren't panicking! It's because they've doubled down on sustainable growth, all thanks to 42/Agency (the sponsor of today's newsletter).
They've built a demand gen playbook for generating leads and closed deals for B2B SaaS companies—even during economic uncertainty!
→ Learn 42/Agency's growth playbook. 
---
⭐️ The community retention playbook
Community is key to driving growth, engagement, and retention for many businesses today. Today, Becky Pierson Davidson, a community-driven product strategist, shares her playbook for creating communities that convert and retain members:
1. Craft a welcoming community onboarding experience.
Personalize and humanize the onboarding process. Live orientation calls with a community manager helped new members feel welcomed and connected.
"At Bossbabe, we basically added a weekly orientation call that every new purchaser that would show up at the live orientation call. They helped create a sense of belonging so new members feel like they're not only supported by our team but also their peers who had similar goals."
2. Identify and fix retention issues in the customer journey.
Analyze behavior data to find drop-off points. Survey members to uncover the emotional triggers behind churn. Address weak spots to improve retention.
"By looking at that data, we were able to come up with some of the questions to help us identify retention issues in the customer journey. We ran a survey, and we found new members were often overwhelmed with too much info. "  
When people first join a new community, it's easy to overload them with content and information. Start slow, focus on the most critical elements first, and gradually ramp up engagement.
3. Help members level up at the right time.
"How do you recognize when your customers, subscribers, community are playing it small and encourage them to take it to the next level? That's really when magic happens. When we nailed that at Bossbabes, growth started to pick up."
The best community experiences have customers "ascend" or level up through different levels or offerings to increase engagement and retention.
Consider offering products or services at different levels that help customers level up gradually. Each product or service should provide a transformational experience to wow your customers.
4. Build a strong identity and sense of belonging.
"You can't have identity without values. So I think it's really important to talk about values from the beginning and really make people understand this is what we're about. And if you're a part of this, then this is what you're about."
Creating a strong sense of identity within your community is crucial for retaining members. Ensure your community has well-defined values that resonate with your target audience and communicate these values clearly.
Free powerups cheatsheet 🔖
I've created a powerups cheatsheet exclusively for Marketing Powerups subscribers to apply Becky Pierson Davidson's community retention playbook.
→ Download and make a copy of it here (a direct link with no email required).
In the latest Marketing Powerups episode, Becky further explains her customer retention playbook.
Listen to the episode on Apple Podcast and Spotify now, or watch it on YouTube.
---
✨ Mini powerups
Fun-sized tools, links, and blurbs to boost your marketing.
📝 Never take meeting notes again (tool):
I'm not a big fan of writing notes during meetings. I feel like I can't fully be present during the meeting if I am. But it's helpful to remember decisions and action items from the meeting. Circleback is a new tool I started using to take notes and get near-perfect transcripts automatically during marketing meetings.
📢 The ultimate guide to PLG communication (sponsor):
Nailing your email marketing strategy is important to onboard new users, adopt the product, and increase revenue. The Inflection.io team created this 70-page guide full of examples on everything from onboarding to adoption to expansion.
🏆 The guide to mastering content quality (article):
Everyone talks about quality content, but it's often hard to define. Bruce Clay provides a 35-point checklist for creating high-quality, people-first content that ranks on search engines. This checklist goes beyond Google's E-E-A-T guidelines.
📊 The 2023 state of content marketing (report):
Jimmy Daly (Founder of Superpath) partnered with the Minuttia team to survey over 685 content marketing leaders and create this report. It provides insight into various content topics, including content budgets, headcount, AI, and more.
---
If you enjoyed this, you'd love this Marketing Powerups issue from the archives featuring
about
the 3 elements of world-class communities
.
That's all for now, friends!
Have a powered-up day,
Ramli John
Connect with me on LinkedIn.
P.S. If you found this helpful, would you share the love by tapping the heart below? ❤️
It'll help me know what's resonating with you and get more people to know about my newsletter. Thanks!